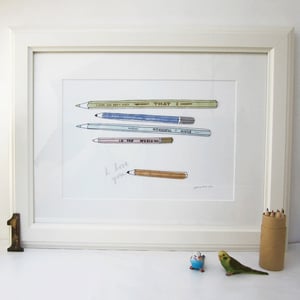 £

15.00
Hand drawn by Hanna Melin, these four pens got the lyrics from Elton Johns famous "Your song", and is a celebration to love!
Open digital edition. Printed on warm white 220g cartridge paper.
29cm x 21cm. Signed on front by artist.
Sold unframed, this print fits perfectly in an off the shelf frame.
Comes with a loose piece of card and plastic sleeve, so it makes a really good gift and will be perfect to send to someone in the post.